"That ye might walk worthy of the Lord unto all pleasing, being fruitful in every good work, and increasing in the knowledge of God;"
. . . Colossians 1:10 . . .
Welcome To The First Baptist Church HomePage

"Heaven and earth shall pass away, but my words shall not pass away."
. . . Matt. 24:35 . . .

OUR CHURCH AND OUR PASTOR
First Baptist Church of Oak Creek
10550 South Howell Ave.
Oak Creek, Wisconsin 53154
Chief Shepherd - Jesus Christ the LORD
Under Shepherd - Pastor David L. Brown, Ph.D.
Church Phone: (414) 762-7575
E-mail: FirstBaptistChurchOC@gmail.com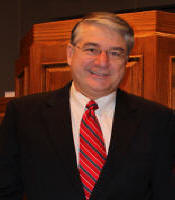 Pastor David L. Brown, Ph.D.
TIMES OF OUR SERVICES
SUNDAY SERVICES:
Sunday School classes for all ages - 9:30 a.m.

Nursery is available for all services


There is a new College-Career Sunday School Class. They will be meeting in the Library. Those who have graduated from high school to age 29, and have never been married, are invited to participate in this class. There will also be a College-Career Bible study group that will meet Wednesday evenings.

Morning Worship Services for all ages - 10:45 a.m.

Toddlers Church (2's & 3's)
Beginner Church (4 - 6 years)
Junior Church (1st - 3rd grades)


Evening Worship Service - 6:15 p.m.
WEDNESDAY EVENING SERVICES:
Mid-Week Services for all ages - 7:00 p.m.

Adults - Prayer and Bible Study
Truth Trackers - 1st - 6th grades
Youth Meeting for teens - 7th through 12th grades
College-Career - Bible study
OTHER WEEKLY ACTIVITIES:
Sundays: Adult Choir Practice - 5:00 p.m.

Mondays: Classes with Christian Heritage School of the Bible & Theology - 7:00 p.m. - September 24th - December 10th.

Tuesdays: Time Out for Oak Creek Teens at the High School during the school year.

Wednesdays: Ladies Bible Study will start again September 18, 2013.

There will be children care - 9:30-11:00 a.m.

Thursdays: Tell Team Visitation, a door to door visitation ministry - 6:30 p.m.
OUR MINISTRIES
All of our services and ministries are centered around the teaching of God's Word, the Bible. We provide a nursery for all services and begin Bible teaching even in the nursery classes.

On Sundays at 9:30 a.m. we have Sunday School classes for all ages from Nursery through Adults. In each class the Bible is taught. Then at 10:45 a.m. there is Morning Worship services for every age group. Our Evening Worship service starts at 6:15 p.m. where the whole family can Worship and Study the Bible together.

On Wednesday evenings at 7:00 p.m. we have Mid-Week services for the entire family. A Prayer and Bible Study time is for the adults. Truth Trackers where the children memorize Bible verses, are taught a Bible lesson by an adult leader and play games is for children in the 1st through the 6th grades. The Youth Meeting is for teens in the 7th through 12th grades where they are taught Bible Truths that are pertinent to growing and developing young people.

We have a ladies missionary group called "The 3M's" which stands for Maidens - Mrs. - and Moms, which meets monthly and seeks to pray for and aid missionaries in various ways. Click here to see schedule

We seek to reach our community for Christ by witnessing and leaving tracts at each home. Our Church Ministries

ITEMS OF INTEREST ABOUT OUR CHURCH
PASTOR BROWN ON TWITTER AND HIS NEW BLOG
If you want to follow my postings on "Twitter" send me an email at

FirstBaptistChurchOC@gmail.com
and then click on my picture and join twitter.





follow drdavidlbrown at

-

http://twitter.com


Also...


Join me on my new blog -

http://SaltLightTruth.blogspot.com





If you have an iPhone, iPad or iPod Touch, First Baptist Church Oak Creek (FBCOC) now has its own App for those devices which makes it easier to listen or watch the messages and connect to our web site. Just go to the Apple App store and search for First Baptist Church Oak Creek and download the Application. It is free.


SEARCH THE BIBLE - A KJB CONCORDANCE