1976 & 2008 by David L. Brown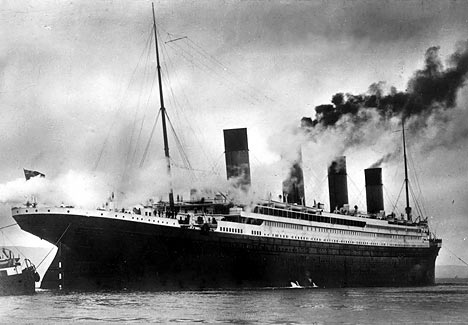 THE TRAGEDY
April 15, 1912 was a tragic day in maritime history. April 15, 2008 marks the 96th anniversary of the 20th century's most catastrophic shipping calamity. At 2:40 a.m. the "unsinkable" luxurious White Star Liner, Titanic, pride of the British merchant fleet, plunged to its watery grave becoming a humungous coffin for 1,517 perplexed people.
THE GREAT DELUSION
Too many have an errant, even flippant view of God. One crewmember brazenly stated, "Not even God could sink this ship!" It was commonly stated that the ship was "unsinkable." This was the selling point of all the promoters. After all, it was the world's largest vessel in 1912: 882 ½ feet long, weighing 46,328 tons, with a double bottom of 5 to 6 feet thick to insure added safety.

Thirty-two-year veteran E.J. Smith, the Titanic captain, stated, "I cannot imagine any condition that would cause the ship to founder. I cannot imagine any disaster happening to this vessel. Modern shipbuilding has gone beyond that."
People would have harangued anyone as a lunatic who would have said the Titanic would sink on her maiden voyage. It was a known "fact" that the only way possible she would sink would be if both keel plates on her double bottom hull were torn at least half her length. The odds of that happening were too high to figure! Especially considering there were 30 watertight compartments designed to prevent that from ever happening. Adding to the air of security, or might I say false security, was the presumptuous talk that the 46,328 ton Titanic traveling at 18 knots could slice through anything without sinking.
THE PEOPLE
The Titanic has received worldwide publicity, with the owners, designers, builders, captain, crew and news media proclaiming it as the safest, most luxurious attraction ever. They made it seem as if it were the Eighth Wonder of the World and a first class booking cost like it also. The best accommodations were reserved for $4,350, while the less expensive first-class rooms were a mere $2,300. That was a BIG PRICE back then.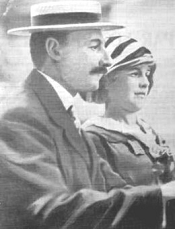 For that money, you might guess the class of people that were attracted to an expensive "unsinkable" ship offering the plushest transatlantic accommodations in the world. The tall, 48-year-old John Jacob Astor IV was probably the most renowned. If not, he was at least the riches, worth some $150 million. His wealth included companies still known today: Western Union, The Equitable Life Assurance Company, and Mercantile Trust Company. At 48 he took Madeline, his bride of 19, and reserved the best of accommodations on the Titanic as the final leg of a trip from Egypt. He never stepped foot on dry land again after boarding at Southhampton, England although his wife escaped the watery grave and later gave birth to his son, John Jacob Astor V.
Benjamin Guggenheim, age 47, was worth $95 million. Jay Bruce Ismay of International Mercantile Marine Company and White Star Line chairman was on board with his wife and children. He was worth about $40 million and he wanted everyone to know it. His wife was a "display piece" for his wealth. It is said that one string of her pearls was worth $250,000.
Among the noted Americans on the Titanic was Major Archibald Butt. He had been military aide to the 25th president, Theodore Roosevelt and at the time was returning to Washington from a visit to Italy and specially visiting the Vatican on behalf of President Taft. Butt was serving President Taft as military aide also.
There was Isidor Straus, an elderly Bavarian Jew who made his fortune in commerce and banking. He was also a partner with R. H. Macy in New York City's famous store by the latter name. He was returning from the Rivera. It is said he was worth $50,000,000.
Great men of industry, commerce and finance, as well as a sprinkling of aristocrats of Europe, held prime places on the Titanic. Leading theatrical and motion picture figures, a renowned American publisher, a British journalist, a famous metallurgical engineer, a fashion designer and dozens of other celebrities were aboard. Such great wealth and fashion; the women outstandingly arrayed in the finest Parisian gowns, shimmering with enough jewels to sink a lifeboat. The rich and famous, as well as hundreds of average people like Lawrence Beesley, a London schoolmaster going to visit his brother in America, did not have the slightest inkling of the tragic disaster they would encounter at 41° 46′ N. and 50° 14′W.
THE PLEASURES AND PROBLEMS
Amid the swimming pool, Turkish baths, library and reading room, gymnasium, miniature golf course, child's playroom, tennis courts, restaurants, ballrooms, tailor shops, dress shops and palm-lined courts, people had no time to be interrupted from their amusement. Wallace Hartley and his eight-man orchestra often captivated the attention of the passengers with light waltzes and American Rag Time. An electric camel, horse, 16 pianos and a "hospital equipped with an operating room" testified to the extravagant heights White Star Lines had gone to quench the thirst for pleasure and amusement of the rich. She even published her own magazine enroute – "The Atlantic Daily Bulletin".
The alarming truth is that a fire was burning in number 6 coal bunker when they left Southhampton. In fact there was a near disaster when the Titanic pulled away from port because it displaced such an immense volume of water in such a restricted area that it caused a powerful suction, which combined with an offshore breeze dragged the ship the New York from her berth, snapped her mooring lines and a collision between the two was missed by just a matter of inches! Adding further to the danger, it was discovered after the Titanic was under way that there were no binoculars in the crow's nest with which to watch and spot danger more easily.
There was a fourth problem. The accounts that I have found set the number of people, in total, from 2,222 to 2,340. There were 20 lifeboats with a capacity of 58 each. That meant there was room for 1,160 if each boat were filled to capacity.
The fifth problem was bad seamanship. Despite all urgent warnings of ice by radio and signal lamp, the Titanic, in hopes of an early arrival in New York harbor, sailed at near top speed of 22 ½ knots, into slushy iceberg infested waters.
On that cloudless, breezeless night of April 14, 1912 with only the stars for light, the Titanic rammed a huge iceberg, which ripped a 300-foot gash into the one side of the "unsinkable" ship. Lady Cosmo Duff Gordon, in her stately room, was awaken by the jolt and was quoted to have said, "It seemed as though somebody had drawn a giant finger along the side of the ship". Many were so busy the jar went unnoticed.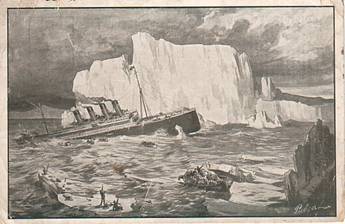 By 12:10 a.m., April 15, Thomas Andrews, the Chief designer of the Titanic had informed Captain Smith the ship had incurred some serious damage, but there was no need to alarm the people. The crew was notified and ordered to uncover the lifeboats and distribute life vests. Many refused to put on the vests, saying they didn't want to ruffle their gowns with those dirty vests! John Jacob Astor was asked where his life vest was and he replied, "I didn't think I needed it"!
At 12.45 a.m. Captain Smith ordered an S.O.S. flair fired but no assistance would come after many firings. The call was given – "To The Life Boats…women and children first" but people had been brainwashed by the pompous publicity – "Unsinkable", and the cries for the most part were not taken seriously. The truth is that many lifeboats pulled away with only a dozen or so people in them while the capacity was 58. One story has it that people were chipping off hunks of icebergs and having snowball fights on deck.
At 1:30 a.m. a series of explosions turned the dream cruise into a nightmare. People were shocked into the reality of impending disaster. The stampede was on. A few men were said to have disguised themselves as women in an effort to get in the lifeboats.
There were men on the Titanic that day that could have bought it, but in those last moments they did not have enough money to buy a seat in the lifeboat.
Some say 705 lived to tell of the terrible tragedy. The British Government said 1,490 people perished. The British Board of Trade said 1,503 and the U.S. Senate Investigating Committee said 1,517. That figure is probably the most accurate.
Eyewitnesses say that the partings were horrible…children snatched from parents and thrown into lifeboats. Women torn from their husbands by ship stewards and placed screaming into the boats.
One eyewitness said a man was holding his 12-year-old son. Many came and begged him to let the boy loose and put him into the boat. The man tried to push his son away several times but the little boy would not release his grip from his dad.
At 2:40 a.m., April 15, 1912, as the band played the Episcopal Hymn, Autumn: "All against my soul combined, Hold me up in mighty waters, keep my eyes on things above, Righteousness, divine atonement, peace, and everlasting love", as the Titanic slipped beneath the icy waters, 1,600 miles from New York City, off the Banks of Newfoundland. It came to rest in 16,500 feet of water.
Those drifting in lifeboats heard the calls of those left struggling in the sea. The Third Officer, Herbert Jolin Pitman testified at the Senatorial inquest, after burying his head in his hands and sobbing – "Sir, you asked about the screams…it was just one long, continuous moan!" some lifeboat groups rowed frantically in an effort to get away from the terrible sound. Some tried singing, some plugged their ears, some just rowed.
The "Unsinkable" ship sunk on her maiden voyage, becoming a gigantic gloomy sepulcher for 1,517 people.
SPIRITUAL APPLICATIONS SHOULD BE CONSIDERED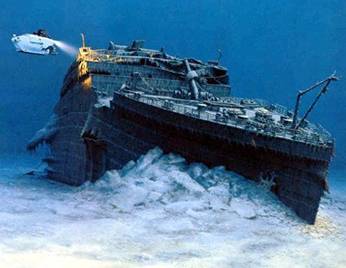 1. "Not even God can sink this ship" was a seaman's rash remark. Men throughout the ages have endeavored to demonstrate their independence from God and even think themselves equal with God Almighty. The sailor's remark was a flippant one, probably made in jest. Many today feel they are "above" relying on the Lord. The Bible reminds us, "Pride goeth before destruction, and an haughty spirit before a fall. Better it is to be of an humble spirit with the lowly, than to divide the spoil with the proud." (Proverbs 16:18-19) I do not believe God sank the Titanic, but I believe He allowed it to happen. We are also reminded, "Be not deceived; God is not mocked: For whatsoever a man soweth that shall he also reap. For he that soweth to his flesh shall of the flesh reap corruption; but he that soweth to the Spirit shall of the Spirit reap life everlasting." (Galatians 6:7-8) Despite the claims of the designers, builders, owners, captain, crew and news media, that the Titanic was unsinkable, in essence claiming, "Lord, we will care for ourselves, we do not need Your protection or help, we are the masters of our own destiny and captains of our fate", the ship sank. After all these years the incident is a lamentable and catastrophic reminder to the world that we still need God.
2. There is more to life than luxury. The Titanic had the grandest accommodations. There were none better in the world…tennis courts, bars, ballrooms, dining rooms, gambling dens, an elevator and plush cabin accommodations. Those securely resting in the comfort and luxury of the palatial surroundings found too late that the builders had furnished much for self-gratification and enjoyment in life, but little for saving it. There were 20 lifeboats with a capacity of 58 each on the Titanic. There were no crew members assigned to man the lifeboats in an emergency. The lifeboats contained no provisions, no fresh water, and some had no plugs in the water drains. The Bible says, "But seek ye first the kingdom of God, and his righteousness and all these things shall be added unto you." (Matthew 6:33) The age in which we live offers many luxuries to strive for and enjoy. Most get an education, get a job, get married, buy a home, have a family and continue to work, striving to acquire enough earthly things and to be set by the time they retire. Then they die. If there has been no "seeking God" their situation is hopeless for all of eternity. They cannot take a single cent to the grave with them. Are you prepared for eternity?
3. The worthlessness of money in the light of eternity. There were men aboard the Titanic who could have bought her. But in those last sinking moments their entire fortunes were not enough to by a seat in a lifeboat. Remember the words of Mark in his gospel – "For, what shall it profit a man, if he shall gain the whole world, and lose his own soul? Or what shall a man give in exchange for his soul:" (Mark 8:36-37)
Friend, if you are without Christ as your personal Saviour, it is like being on the Titanic with no room in the lifeboat. Jesus Christ said, "I am the Way, the Truth and the Life; No man cometh unto the Father but by me." (John 14:6) "Neither is there salvation in any other: for there is none other name under heaven given among men, whereby we must be saved." (Acts 4:12) "He that believeth on Him is not condemned: But he that believeth not is condemned already, because he hath not believed in the name of the only begotten Son of God." (John 3:18) "For whosoever shall call upon the name of the Lord shall be saved." (Romans 10:13)
Have you ever called on Christ Jesus and asked Him to forgive your sin and come into your life as Saviour? Would you like to? Why not pray this simple prayer of acceptance? "Lord…I know that I am a sinner, and that I deserve to go to Hell, but I now believe that Christ died for me, and now by faith receive Him as my personal Saviour and Lord."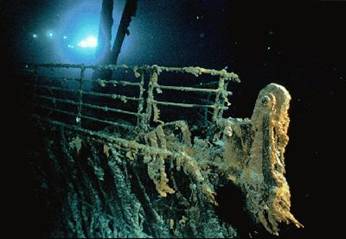 4. The Alternative…
If you were to die tonight without Christ, what would be your fate? Remember Third Office Pitman's testimony relating to the sounds as the Titanic slipped to its watery grave – "Sir, it was just one long, continuous moan!" Hell will be like that… "There shall be wailing and gnashing of teeth." (Matthew 13:42) Do not sink in your sin…Repent of your sin and reach out to the Lord Jesus Christ and be saved.