Pastor David L. Brown, Ph.D.
Sermon Delivered 5/29/05
Acts 5:20-42
Introduction
I am a student of history, particularly of the Reformation era. Two years ago I stood at the exact spot in Oxford, England where Hugh Latimer was burned at the stake for his faith in Jesus Christ during the reign of bloody Mary (Mary Steward or Mary I). However, before that, he was a solid witness for Christ. He was bold to speak up for the Lord Jesus Christ, even at the peril of his life. Below is one famous account of this manís boldness.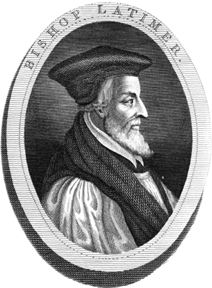 "Hugh Latimer once preached before King Henry VIII. Henry was greatly displeased by the boldness in the sermon and ordered Latimer to preach again on the following Sunday and apologize for the offence he had given. The next Sunday, after reading his text, he thus began his sermon: "Hugh Latimer, dost thou know before whom thou are this day to speak? To the high and mighty monarch, the king's most excellent majesty, who can take away thy life, if thou offendest. Therefore, take heed that thou speakest not a word that may displease. But then consider well, Hugh, dost thou not know from whence thou comest--upon Whose message thou are sent? Even by the great and mighty God, Who is all-present and Who beholdeth all thy ways and Who is able to cast thy soul into hell! Therefore, take care that thou deliverest thy message faithfully." He then preached the same sermon he had preached the preceding Sunday--and with considerably more energy."
Increasingly, in our nation and in this world, believers are being told that they are to keep their religion opinions and teachings to themselves. One clear example of this is that I heard on the news this past week. There is pressure being brought to bear on believers in the Air Force Academy not to try to win fellow students to Christ! One cadet who had been witnessed to, told reporters he was told if he did not receive Christ as his Savior, he would go to hell. The reporter speculated that such a statement might be hate speech. What a complete lack of understanding of the Bible. In fact, trying to urge someone to repent of their sins and believe in Jesus Christ so they do not God to hell is love speech, not hate speech! As I understand it, the Academy now has instituted the R.S.V.P. program, a tolerance program called "Respecting the Spiritual Values of all People." I found the response of Major General Charles C. Baldwin, the chief of chaplains for the entire Air Force, very interesting. After looking over the program he reportedly asked, "Why is it that the Christians never win?" in response to some of the programís dramatizations of interactions between cadets of different religions.
My point is this. Christians, the pressure is going to become greater and greater on us in an effort to get us to keep our mouths shut! However, remember our Lordís words recorded in Acts 1:8 "But ye shall receive power, after that the Holy Ghost is come upon you: and ye shall be witnesses unto me both in Jerusalem, and in all Judaea, and in Samaria, and unto the uttermost part of the earth." In other words, SPEAK UP!
In this message, we are going to look at some of the areas in which we are to speak up.
Speak Up To You Children Ė Psalm 78:1-8
It is clear from Psalm 78 it is the responsibility of the fathers (and mothers too Ė Proverbs 1:8), to tell them about who God is and what he has done. The purpose in doing this is seen in verse 7, "That they might set their hope in God, and not forget the works of God, but keep his commandments."
And, how do you "speak up" to your children about God? You tell them how you got saved. You tell them what God has done in your life. You tell them about the prayers God has answered. You read and explain the Word of God to them.
We live in a day when people think they are doing God a favor when they give his name "honorable mention" when things are tough. The tragedy of 911 is a good example. However, things have pretty much gotten back to their pathetic norm in our nation now. Matthew 15:8-9 warns, "This people draweth nigh unto me with their mouth, and honoureth me with their lips; but their heart is far from me. 9 But in vain they do worship me, teaching for doctrines the commandments of men."
Parents, it is your job to speak up to your children in an effort to program their "moral compasses" toward godliness. When you do this, the unsaved crowd will accuse you of being mediaeval, narrow minded, puritanical, domineering, cultic, or even say your are trying to brainwash your child. They will claim that, they want to teach your child to be an "open minded, free thinking, uninhibited, well adjusted" person. In reality they donít want anyone telling them they are sinners and they prefer to make young people in their own image, because evil loves company. Parents, I remind you of the words of our Lord in Mark 8:36-38 "For what shall it profit a man, if he shall gain the whole world, and lose his own soul? 37 Or what shall a man give in exchange for his soul? 38 Whosoever therefore shall be ashamed of me and of my words in this adulterous and sinful generation; of him also shall the Son of man be ashamed, when he cometh in the glory of his Father with the holy angels."
Speak Up Against Tyranny Ė Esther 4:7-17
The Merriam-Webster online dictionary defines tyranny as oppressive power exerted by government. Queen Esther of old, at the peril of her life, exposed a plot to exterminate the Jews. While we may never be called on to do something as extraordinary as Esther was called on to do, we are called to speak up for righteousness, even when it runs counter to law or government policy.
There is a culture war flaming in this nation. It is biblical values vs. humanistic values. The humanists would strip our nation of all Biblical morals and values. We must speak up against tyranny and for righteousness on a local, state and national level.
Speak Up In Exhortation -- Hebrews 3:13
The verse says,"But exhort one another daily, while it is called To day; lest any of you be hardened through the deceitfulness of sin."
As believers, we have a responsibility to one another. When we see an area where a brother or sister is in spiritual danger, it is our responsibility to warn them about it. When we see them wavering in the faith, we need to encourage them to keep on keeping on (Acts 14:22). When we see an area where they need to grow or be more faithful, we need to prod them (Hebrews 10:25). Positive peer pressure is a good thing.
Speak Up For The Gospel Ė Acts 1:8
"But ye shall receive power, after that the Holy Ghost is come upon you: and ye shall be witnesses unto me both in Jerusalem, and in all Judaea, and in Samaria, and unto the uttermost part of the earth." Acts 1:8
Wherever we go, we are to tell people how to be saved from their sins through the Lord Jesus Christ. Originally, thatís how the Gospel spread. When Christians were scattered far and wide because of persecution, they shared the Gospel wherever they went. Acts 8:1-4 "And Saul was consenting unto his death. And at that time there was a great persecution against the church which was at Jerusalem; and they were all scattered abroad throughout the regions of Judaea and Samaria, except the apostles. 2 And devout men carried Stephen to his burial, and made great lamentation over him. 3 As for Saul, he made havock of the church, entering into every house, and haling men and women committed them to prison. 4 Therefore they that were scattered abroad went every where preaching the word."
Paulís prayer was that he might "open [his] mouth boldly, to make known the mystery of the gospel" (Ephesians 6:19). That need to be our prayer as well.
May we speak up! Speak up to our Children; Speak Up Against Tyranny and For Righteousness; Speak Up In Exhortation & Speak Up For The Gospel.