Pastor David L. Brown, Ph.D.
Sermon Delivered 1/5/02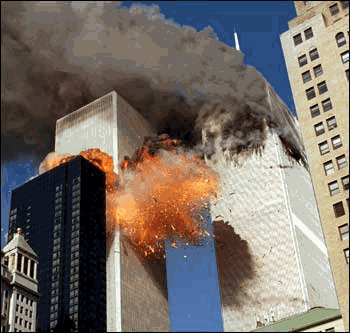 I was thinking over the past year. I must tell you that my mind rewound to what I heard and saw on the radio and TV on September 11, 2001. I was on the way to an appointment with my oral surgeon when I turned on my car radio. It took me a couple of minutes to figure out what was going on. Finally I figured out what they were talking about was a jet had crashed into one tower of the twin towers of the World Trade Center in Manhattan. I called my wife Linda, had her put a video into the VCR, and record the events. At first, the reporters were characterizing it as a bizarre accident…until the second plane crashed into the adjoining tower. It was then that we all came to realize that our nation was under attack.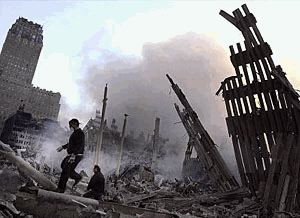 Just this past week (1-1-02) workers discovered thirteen more bodies as they continue to clean away the bubble. In all, if I have the figures correct, more than 3,000 people lost their lives at the World Trade Center, the Pentagon and in the plane that crashed in a Pennsylvania field. Further, this week the first American soldier was killed in action as the war on terror continues. Please pray for his wife and family, our president, his cabinet and advisors, and our military leaders and our soldiers who are fighting to root out those who are bent on bringing fear, destruction, ruin, and death to the citizens of our nation. At the same time it is equally important to remember to pray that our nation will return to God, because as the Scriptures say, "Except the LORD build the house, they labour in vain that build it: except the LORD keep the city, the watchman waketh but in vain." Psalms 127:1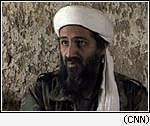 As I thought about the evil terrorist leader Osama Bin Ladin, the number of American lives lost in the attack on America, our war on the terrorists and those who harbor them, I thought about another war. This war is even more devastating when we loose a battle. It is a war for the souls of men and women. The evil leader of this war to damn men and women is the Devil. The Apostle Paul regularly used the language of war to describe the spiritual battles associated with this war. Below are several of the passages that use this language.
"This charge I commit unto thee, son Timothy, according to the prophecies which went before on thee, that thou by them mightest war a good warfare;" 1 Timothy 1:18
"(For the weapons of our warfare are not carnal, but mighty through God to the pulling down of strong holds;)" 2 Corinthians 10:4
"Fight the good fight of faith, lay hold on eternal life, whereunto thou art also called, and hast professed a good profession before many witnesses." 1 Timothy 6:12
"Thou therefore endure hardness, as a good soldier of Jesus Christ. 4 No man that warreth entangleth himself with the affairs of this life; that he may please him who hath chosen him to be a soldier." 2 Timothy 2:3-4
Coincidently, this past week I was reading a sermon by Charles Spurgeon. His point was that it is important to be a good soldier of Jesus Christ. The souls of men and women in Southeastern Wisconsin, yea the world are at stake. We must wage a good war against our adversary the Devil and seek to rescue the perishing. But how can we do this? I have borrowed the three points of Spurgeon's outline and some of his comments to help us understand how to war a good warfare…
1) Our Armory 2) Our Army 3) Our Strength

The armory is the Bible! Between its covers are housed the sword of offence(Hebrews 4:12) and the shield of defense(Proverbs 30:5). However, weapons stored in an armory are of no use! They must be in the possession of the soldier to help in the battle. I challenge you to get God's Word out of the armory and into your minds! Read it. Meditate on it. Memorize it. Then, when it comes to hand to hand combat, you will have what you need to be victorious!
The only army we have to fight the battles in our area is you! And I ask you, what are you going to do to for Christ! Every one of you needs to do something for the cause of Christ.
I have the same desire for our church that Spurgeon had. He said, "We want a church of a missionary character, which will go forth to gather out a people unto God from all the parts of the world. A church is a soul-saving company, or it is nothing." We have our marching orders – "Go ye into all the world, and preach the gospel to every creature. Mark 16:15. Jesus Christ, our Commander and Chief, has never rescinded those orders! They are just as valid today as the day He gave them.
If the work of the Lord is to get done; if the Lord's battles are to be won here in our Jerusalem and Judea, it will get done and be won because the Saints of God in this local church do it! If you will not do it, it will be left undone and those who refused to do it will answer to the Lord! Our Commander in Chief, Jesus Christ the Righteous, commands us to continue in the battle. We are to advance or at least hold our ground. His direct command is – "Occupy till I come." Luke 19:13
Strength for Christian service must come from the Holy Spirit. We see this in Luke 24:49. Just before our Lord ascended into Heaven He told his disciples to preach "repentance and remission of sins" among "all nations" while He was gone. But, He also told them to "tarry…in Jerusalem until ye be endued with power from on high." The source of that power was the Holy Spirit (Acts 1:8). The power for successful Christian service today is the Holy Spirit, just as it was in the days of the Apostles.
However, there are some things the Holy Spirit will NOT do.
(Note: the quoted material is from Spurgeon).
"He makes not promise to bless compromise."
"If we make a treaty with error or sin, we do it at our own risk. He will never set his seal to falsehood. Never!" If what you preach, teach or speak is not the truth, God will not own it!
"He never sets his signature to a blank."
"If you do not speak clear doctrine with plainness of speech, the Holy Ghost will not put his signature to our empty prating. If we do not come out distinctly with Christ and him crucified, we may say farewell to true success."
"He will never sanction sin."
"Let your character correspond with your teaching, and let your churches be purged from open transgressors, lest the Holy Ghost disown your teaching, not for its own sake, but because of the ill savor of unholy living which dishonors." We are warned twice by the Apostle Paul, "A little leaven leaveneth the whole lump." (Galatians 5:9; 1 Corinthians 5:6). We are commanded to "purge out…the old leaven" if we would see the blessing of the Lord.
"He will never encourage idleness."
"The Holy Ghost will not come to rescue us from the consequences of willful neglect of the Word of God and study." He ill not rescue us from the consequences of prayerless service. If you allege to serve Him but do it in the "arm of the flesh," neglecting His Word and prayer, and then find yourselves between a rock and a hard place, don't expect the Lord to rescue you.
"He will not bless us in order to sustain our pride."
God resists the proud! (See James 4:6; 1 Peter 5:5). Micah 6:8 "He hath showed thee, O man, what is good; and what doth the LORD require of thee, but to do justly, and to love mercy, and to walk humbly with thy God?"
"He will not dwell where there is strife."
We are to "Follow peace with all men, and holiness…" (Heb. 12:14). Spurgeon says, "specially let us keep peace in our churches. For great principles, and matters of holy discipline, we may risk peace itself." But he goes on to say, for selfish reasons or trivial matters we must NOT jeopardize peace within the body.
"He will only bless in conformity with His own set purpose."
"If our own design is not to magnify the Lord Jesus, we shall work alone and work in vain." Friends, we are not to pursue our own agendas but to do the will of the Lord! Then and only then can we war a good warfare.