Strategy For Spiritual Warfare:
Freedom & The Impossibility of Neutrality
Pastor David L. Brown, Ph.D.
Sermon Delivered 7/1/01
Introduction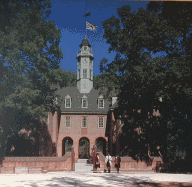 Linda, Sarah and I had a wonder trip. You could say that the theme of the entire trip was Liberty! It started off with the Independent Baptist Fellowship of North America meetings in Williamsburg Virginia. The conference theme was Liberty and each message reflected that theme. One afternoon we toured the Williamsburg, Virginia House of Burgesses. It was there that three of the first five future presidents participated the debates about the increasing British oppression as the forth, a nineteen year old college student, listened in the gallery. Finally, the Virginia leaders voted to sign the 1776 Declaration of Independence.
Next, we traveled to Fredericksburg Virginia. We all took our turn standing on the stone block where slaves were once auctioned to the highest bidder. They would not have freedom until Lincoln's Emancipation Proclamation was signed after the bloody Civil War. We visited the "Sunken Road" battle site in the town where many Union and Confederate soldiers lost their lives. Then we drove across town to the location of the old courthouse where five Baptist preachers were jailed for preaching the Gospel without a license. Patrick Henry defended them in court.
Last Sunday we went to church in the historic Carmel Baptist Church. The church was organized in 1773 near the spot where in 1771 six Baptist preachers were jailed on charges of preaching the Gospel without being ordained by the Episcopal Church and without a license to preach from the court. Around that same time, John Waller, the first Pastor of Carmel Baptist Church was arrested for preaching along with several others. They were sent to prison for their activities. The official record says, "I send you herewith the body of John Waller, James Greenwood, and William Webber. Taken this day and brought before me, who stand charged with unlawful assembling themselves to teach, or preach the Gospel under the pretense of the exercise of religion in other manner than according to the liturgy of the Church of England."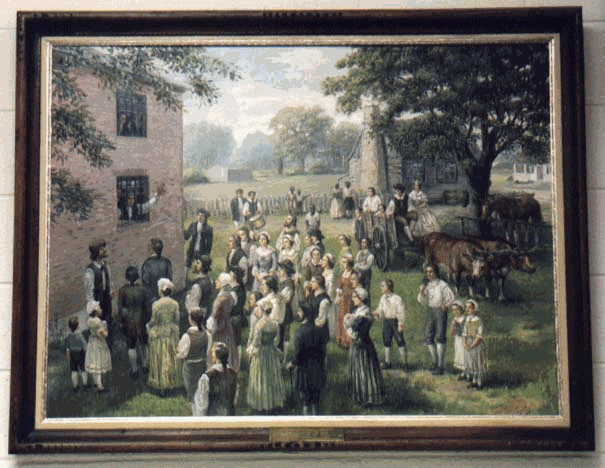 So what did the preachers do? They followed Acts 5:27-29! They gave notice that they would preach every Wednesday and Sunday from the windows. Many came to hear them despite the beating of a drum and other means employed by the mob to silence them. On August 26, 1771 they were brought into court, and each of them were required to give a bond that they would not preach in the county for twelve months. They refused and were remanded to prison and fed bread and water for four days. Friends found out and they were furnished so plentifully that they bestowed their bounty on the poor of the town. This is one of many true stories of the persecution of Baptists in Virginia.
From there we began making the rounds to the homes of our first presidents …Washington's home at Mount Vernon; Jefferson's home, Monticello; Madison's home, Montpelier; and James Monroe's home, Ashlawn-Highland.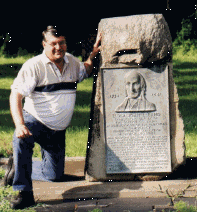 On the way to President Madison's home we stopped at a very important, yet little known, freedom monument in Virginia. It marks the spot where Baptist preacher John Leland (1754-1841) and candidate for the Constitutional Convention, James Madison, met to discuss religious freedom. Madison told Leland that if he and the Baptists would support his candidacy in favor or ratification of the Constitution, he would do all in his power to see that religious freedom and civil rights would be incorporated into the Constitution by Amendment. The Baptists supported him and Madison was true to his word. With the adoption of the Bill of Rights, at long last, Baptists and numerous other Americans (but not all - slavery) finally enjoyed freedom, including religious freedom.
Now, having said all that and with July 4th commemorating the Declaration of Independence, I want to challenge you with this statement – It is impossible to be neutral if you would continue to be free! I believe that is true in both the temporal realm as well as in the spiritual realm!

Our Freedom Has Been Bought With A Price – Romans 5:6-9
We visited North Carolina on this trip to do some research on the Brown family. When my family lived there in the 1700's North Carolina was wild territory at that time. It was Cherokee Indian country. One of my forefathers married a full-blooded Cherokee. Years later, in 1838, long after my relatives had moved on to Indiana, General Winfield Scott force marched 17,000 Cherokee Indians from North Carolina to Oklahoma to be resettled. 25% of them, more than 4,000 perished on the "trail of tears." But, there were 1,000 who hid in the Great Smokies. A Cherokee named Tsali was one of them. Shortly before the removal of the Cherokee Nation to Oklahoma, a drunken United States soldier murdered Tsali's wife. He in turn killed the soldier and found refuge in the depths of America's largest virgin forest in the Great Smokies. Try as they could, and they did try, the soldiers could not find Tsali. Finally, General Scott made this compromise proposal: If Tsali and his kin would surrender to be shot, the remainder of the tribe could stay in the beautiful land of their birth.
After days of anguish, Tsali, with his two sons and brother-in-law walked unescorted into Bushnell, North Carolina to face a certain death.
What brought Tsali there to die? It was his love for his people and his desire that they might be free. They were all lined up to be shot, when at the last moment, his youngest son was spared by the intercession of a missionary woman. The rifles fired and three men died. Tsali, his older son and his brother-in-law had willingly offered themselves as a sacrifice so that one thousand Cherokees were set free to remain in the Great Smokies. Freedom has a price! But I want you to know that there is a much better sacrifice, with much broader ramifications that has been made to purchase your freedom. It was the sacrifice that the Lord Jesus Christ made for our sins! We read in 1 Peter 2:22 & 24 "Who did no sin, neither was guile found in his mouth: Who his own self bare our sins in his own body on the tree, that we, being dead to sins, should live unto righteousness…"
If you would be free from the guilt, the penalty, the power and one day the presence of sin, you must accept Christ's sacrifice for you. That is the ONLY way to be free. John 3:18 "He that believeth on him is not condemned: but he that believeth not is condemned already, because he hath not believed in the name of the only begotten Son of God." The Apostle John further assures us, "If the Son therefore shall make you free, ye shall be free indeed." John 8:36. Let me say clearly that Christ has won our freedom! But…

Our Freedom Must Be Maintained By Commitment
It is clear that Christ has secured our spiritual liberty! But Christian friend, we dare not be lax. We must be vigilant in living as free men and women. We must fighting to keep the enemy from occupying our freed territory. That's biblical!
Galatians 5:1 "Stand fast therefore in the liberty wherewith Christ hath made us free, and be not entangled again with the yoke of bondage."
Galatians 5:13 "For, brethren, ye have been called unto liberty; only use not liberty for an occasion to the flesh, but by love serve one another."
1 Timothy 1:18 "This charge I commit unto thee, son Timothy, according to the prophecies which went before on thee, that thou by them mightest war a good warfare;"
1 Timothy 6:12 "Fight the good fight of faith, lay hold on eternal life, whereunto thou art also called, and hast professed a good profession before many witnesses."
Perhaps the high point of this trip for me was our visit to Cowpens National Battle Field. The Battle of Cowpens in South Carolina took place on January 17, 1781. The cow pens was in the Northern part of South Carolina. It was a place where backcountry people pastured their cattle in preparation to drive them to market. It was mostly open ground with trees here and there. People far and wide knew where the cow pens was.
Until the Battle of Cowpens, America was in danger of losing her battle for liberty. In 1778 George Washington told congress that that patriot cause was in a "…ruinous and deplorable condition." By 1779 it looked like he was going to have to dissolve the patriot army. They had not been paid and there was little food and fewer supplies. Many were predicting that the South would become a British Colony.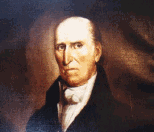 But all that changed at Cowpens. An army of 920 back woods American men was up against 1100 highly skilled British soldiers and won. The British had been chasing the Americans for several days. The morning before the battle, the Americans had fixed breakfast and were starting to eat it when a Patriot scout came in and warned them the British troops were soon to be there. They left immediately and the British ate their breakfast. But, the next day, January 17th, by 8:30 a.m. 110 British lay dead, 229 were wounded, 600 were captured and General Banaster Tarleton was running for his life. The Americans lost only 12 men and had 60 wounded.
How did the victory at Cowpens happen? How did a weaker force defeat a stronger force? A lot of it has to do with Colonel Andrew Pickens.
Let me tell you his true story. He is one of the greatest hero's of the American Revolution. He commanded a regiment of 400 American Soldiers that had defeated a British regiment twice their size in 1779. His battle skills were already legendary. He was recognized wise military strategist and a great leader of men. In June of 1780, seven months before the battle of Cowpens the British threat was overwhelming. It looked like impending defeat for the Patriots.
General Cornwallis has issued a proclamation that any American who wished to do so could lay down their arms and be neutral. They would not have to fight for the British. They would not have to fight for the American Patriots. They could simply be neutral! Pickens brought his small militia to the British post, staked their guns and weapons, declared themselves neutral and walked away. This was not a man who was a coward. But he had looked at the battle situation and said to himself, "it's impossible. We cannot win." Further, He knew what they would do to patriots fighting for the American cause because they had already done it! The British were ruthless and determined to stop the American resistance. They would come to a known Patriots home and drag him, his wife and their children out. They would hold them at gun point, loot the house, set it on fire to the house and barns, steal the cattle, sheep, chickens, horses, etc., sometimes rape the wife in front of the husband and family, then execute the husband and father and ride off leaving the wife and children weeping and destitute of life or sustenance.
When the American Patriots heard that he and his men had laid down their arms, they kidnapped him and held there unofficial court and said, we're going to hang you! He calmly told them that he could not break his word of honor. The told them that he had promised to be neutral and that neutral he would be.
Next, the British tried to get him to become an officer and fight for them. But he refused to them, they told him British General Charles Cornwallis was about to change his mind and issue another proclamation that no one would be allowed to remain neutral. When Colonel Pickens was told that he said, "I will NOT fight for the British!" They said, "If you join the Patriots, we will hang you and saber you." He said, "You may do what you will, but I will not fight for the British." He walked away from there, forced to choose sides! He regathered as many of his men as would come with him about 400, (about half would not rejoin) and met at Cowpens.
He paid dearly for his decision. When the British found out that he had rejoined the American cause they went to his house, dragged his wife and children out, stole what they wanted, and burned his house and barns down.
The whole point of this account is to apply it to our spiritual battle! It is impossible to be spiritually neutral. Christ declared, "He that is not with me is against me…" Luke 11:23
We live in a day when Christians by the millions are trying to be neutral. Some of you are sitting right here today. You don't want to live for the devil but you are not sold out for the Lord.
Many claim they are not against the Lord and yet they are friends with the world. That just cannot be. The Bible declares -- "…whosoever therefore will be a friend of the world is the enemy of God." James 4:4
Listen! We are in a battle (Ephesians 6:11-13). The world, the flesh and the devil are NOT our friends. The devil wants to devour us (1 Peter 5:8). The flesh (old nature) wants to kill us (Romans 8:6) and the world wants to destroy our testimony for Christ (Romans 12:2). Neutrality is not a viable possibility. Christian, join the ranks of the committed and declare your colors. Get on one side or the other! Spiritual liberty, your spiritual liberty is at stake.
Joshua 24:14-15 "Now therefore fear the LORD, and serve him in sincerity and in truth: and put away the gods which your fathers served on the other side of the flood, and in Egypt; and serve ye the LORD. 15 And if it seem evil unto you to serve the LORD, choose you this day whom ye will serve; whether the gods which your fathers served that were on the other side of the flood, or the gods of the Amorites, in whose land ye dwell: but as for me and my house, we will serve the LORD.
Which side are you on? Declare your colors!