September 11th, 2001– America Under Attack
My Thoughts On What Has Happened
Pastor David L. Brown, Ph.D.
Sermon Delivered 9/16/01
Text: "For the Lord will not cast off for ever: 32 But though he cause grief, yet will he have compassion according to the multitude of his mercies. 33 For he doth not afflict willingly nor grieve the children of men." Lam. 3:31-33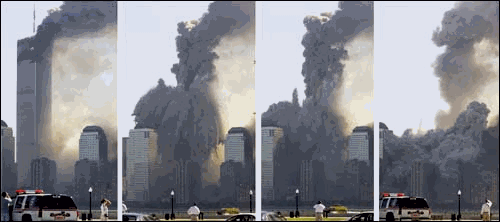 Tuesday, September 11th 2001 is a day I will never forget. I was on my way to Waukesha to see my oral surgeon when I turned on my radio. I could not believe my ears. A plane had crashed into one of the World Trade Towers. I quickly called home and told Linda to put a videotape in the machine and start recording. The scenario unfolded before my ears. A second plane crashes into the World Trade Center. A plane crashes into the Pentagon. A plane crashes in Pennsylvania. I must say that I was shocked and that shock turned to horror as I saw first one and then the second of the World Trade Center Towers collapse. As the day unfolded It became obvious that terrorists were carrying out a savage, twisted attack upon our nation. I must say that the only other day that comes near in my memory was the day that President John F. Kennedy was killed. I remember that day. I remember being in school and hearing the announcement over the public address system. However, September 11th has had more of an impact upon my mind. Perhaps it is because I am an adult or maybe it is because I was a fireman, or possibly, it is because of the sheer magnitude of the death and devastation.
At this point, I would like to share with you my thoughts.
The question that many people ask when calamity strikes is, "Why did God allow this evil to happen?" First, we must remember that evil began in the heart of Satan, who fell from his exalted position in Heaven near the very throne of God, and evil then entered into this world through the rebellion of Adam, the head of the human race. The Bible says, "Wherefore, as by one man sin entered into the world, and death by sin; and so death passed upon all men, for that all have sinned." (Romans 5:12). Friends, the heart of man is desperately wicked (Jeremiah 17:9). And when anyone allows sinful hatred to direct their hearts like the hijackers did, they are capable of the most heinous wickedness. So, it is man's perverse will that has brought such turmoil to this fallen world, but God often gets the blame.
There is a second aspect that I feel compelled to share with you. Turn to 1 Kings 9:8-9 "And at this house, which is high, every one that passeth by it shall be astonished, and shall hiss; and they shall say, Why hath the LORD done thus unto this land, and to this house? 9 And they shall answer, Because they forsook the LORD their God, who brought forth their fathers out of the land of Egypt, and have taken hold upon other gods, and have worshipped them, and served them: therefore hath the LORD brought upon them all this evil."
My Christian friends, I have been gravely concerned for nearly two decades that our nation was ripe for the judgment of God. Why? Because our nation has all but forgotten the truth recorded in Psalms 33:12 "Blessed is the nation whose God is the LORD."
Many of our leaders have and people have turned their backs on God. Laws have been passed facilitating the murder of 40 million pre-born children. Sodomy is encouraged by legislation. Biblical Christianity, the religion that our nation was founded on, is increasingly hindered by legislation. So what is my point? I fear that the Lord may have withdrawn his hand of protection and blessing from our nation. And, if that indeed is true, I cannot blame Him because it is we (speaking of us collectively as Americans) that have forsaken the Lord!
Another thought that came to my mind is this. We have a prime opportunity, as a nation, to repent and return to God! I believe Isaiah 55:6-7 is within our grasp. It says, "Seek ye the LORD while he may be found, call ye upon him while he is near: 7 Let the wicked forsake his way, and the unrighteous man his thoughts: and let him return unto the LORD, and he will have mercy upon him; and to our God, for he will abundantly pardon."
I listened in amazement as the Senators and Congressmen gathered on the Capitol steps. After they made their statements, they spontaneously broke into the song God Bless America. That gives me hope. Further, I thought it was the right thing for President Bush to call for a National Day of Prayer. He said…
"Scripture says: 'Blessed are those who mourn for they shall be comforted.' I call on every American family and the family of America to observe a National Day of Prayer and Remembrance, honoring the memory of the thousands of victims of these brutal attacks and comforting those who lost loved ones. We will persevere through this national tragedy and personal loss. In time, we will find healing and recovery; and, in the face of all this evil, we remain strong and united, 'one Nation under God.'

NOW, THEREFORE, I, GEORGE W. BUSH, President of the United States of America, by virtue of the authority vested in me by the Constitution and laws of the United States, do hereby proclaim Friday, September 14, 2001, as a National Day of Prayer and Remembrance for the Victims of the Terrorist Attacks on September 11, 2001. I ask that the people of the United States and places of worship mark this National Day of Prayer and Remembrance with noon time memorial services…"
Our nation needs the Lord more than ever before! Our nation is going to War! It is a war began on our own soil. However, it is a problematic war because we are dealing with an illusive, clandestine enemy that is not located in one specific place.
We need the God of Psalm 46:1-7! I pray that this will be a time of repentance, reliance on God and spiritual renewal for the people of our nation. But, I fear that in a month or two the spiritual sensitivity that I have seen will dissipate, though I pray that it will not.
Allow me to move on to an additional thought. One of the first things I did was pray for our President and national leaders. They need God's wisdom. Pray for those who have lost loved ones. Pray for strength and safety of involved in rescue operations. Pray that many people will come to Christ as personal Savior. Only in the Lord will the bereaved find genuine comfort (2 Cor. 1:3-4; Mat. 11:28-30). Further, pray for the Bible believing churches in the New York City and Washington D.C. that they will be able to offer both temporal and spiritual help. We have missionaries planting a Church in New York. They are Eric & Valerie Wohner working in Queens. There are also several other Baptist Mid-Missions missionaries ministering in New York City: 1) Elizabeth Jones & Rachel Schildroth - Staten Island 2) Marty & Valerie Silverberg – Bronx 3) Mike & Holly Hammons - Queens (Ozone Park). We will be sending at least $1,000 to:
Baptist Mid-Missions
World Relief Fund – NY
P.O. Box 308011
Cleveland, OH 44130-8011
Each of these missionary works in NYC is in the process of developing a plan for how their ministry can effectively provide compassionate relief that will also present Christ. Each of these works will have access to World Relief Funds to provide for these efforts. If you would like to help financially, let me know. Also, you can make arrangements with the Red Cross to donate blood.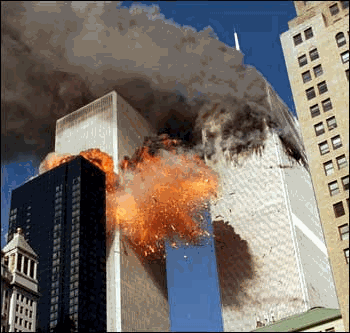 The last thought that I have time for is this: Many firefighters and police officers gave their lives trying to save those who were trapped in the collapsed towers. I do not believe that anyone was expecting to die when they got up on Tuesday morning, and boarded one of the four planes or went to their offices, yet unnumbered thousands stepped into eternity and many of them were unprepared. Are your ready to step into eternity? If you were to walk out of this door and be killed, would you go to Heaven? There is one who gave His life for you that you might be saved from the condemnation of Hell and that is Jesus Christ. Now, there are likely some who are thinking, I don't need Jesus. I'm at peace. You may be at peace, but it is a false peace if you have not received Jesus Christ as your personal Savior. George Whitefield warned, "perhaps the devil has lulled you asleep into a carnal lethargy and security, and will endeavor to keep you there till he gets you to Hell, and there you will be awakened, but it will be dreadful to be awakened and find yourselves so fearfully mistaken when the great gulf is fixed, when you will be calling for all of eternity for a drop of water to cool your tongue and shall not obtain it." Please listen! The only way to be prepared for eternity is to repent of your sins and receive Jesus Christ as your personal Savior. "For whosoever shall call upon the name of the Lord shall be saved." Romans 10:13
2 Chronicles 7:14 "If my people, which are called by my name, shall humble themselves, and pray, and seek my face, and turn from their wicked ways; then will I hear from heaven, and will forgive their sin, and will heal their land."