Pastor David L. Brown, Ph.D.
Sermon Delivered 12/31/00
Reviewing A Few Key Events of 2000 A.D.
When I review what I consider to be some of the key events of the year Lamentations 3:22-23 comes to mind --
"It is of the LORD'S mercies that we are not consumed, because his compassions fail not. They are new every morning: great is thy faithfulness."
Y2K – Manufactured Mayhem
Do you remember what was on nearly everyone's mind last year at this time? Y2K! Do you recall the words of computer expert Michael S. Hyatt and author of the book, The Millennium Bug.
"12:01 a.m. January 1, 2000: Your electricity goes off. Phones aren't working. The computer at your local bank crashes. Police and 911 are nowhere to be found... Social Security checks will stop coming. Planes...will be grounded. Credit card charges will be rejected. Military defense systems will fail...The Federal reserve will be unable to clear checks...your employer will go out of business. It is going to be a billion times worse than the worst microcomputer crash you have ever experienced -- or could ever imagine."
I had not seen fear ravaging the Christian Church like that since the threat of a nuclear holocaust back in the 60's. I warned this congregation, our radio audience and those who accessed the Logos resource pages that neither fear (2 Timothy 1:7) nor hoarded resources (Proverbs 11:4&28) were an appropriate response anticipating the Y2K millennial meltdown.
So, do you remember what I suggested was an appropriate response? I said, "If you are a believer, make sure you are right with God, living righteously and doing good!" I went on to say, "Being right with God, having your sins confessed, living in fellowship with Him, living righteously, doing what you know you are supposed to be doing, and doing good to others is the best preparation for any time of trouble. " see Psalm 37: 3, 16-19, 39-40).
Y2K, as the old saying goes, was "much ado about nothing." Hopefully the Christian community has learned its lesson that the appropriate response to impending difficulties is to look to the Lord! Psalms 46:1-3 "God is our refuge and strength, a very present help in trouble. 2 Therefore will not we fear, though the earth be removed, and though the mountains be carried into the midst of the sea; 3 Though the waters thereof roar and be troubled, though the mountains shake with the swelling thereof. Selah."
Sin In The Oval Office, Marriage For Money & Same Sex "Marriage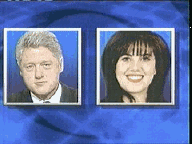 A friend of mine aptly characterized it this way. "The year 2000 brought the United States into personal embarrassment. Our president, Mr. William Jefferson Clinton degraded the White House's presidential office with promiscuous sexual activity with a woman, other than his wife, and young enough to be his own daughter—a woman who was stupid enough to talk about their tryst with anyone bending a listening ear to her tantalizing tale. He was impeached by the House of Representatives, but not found guilty by the Senate or removed from office. Yet, in spite of all this hanky-panky and lying, the country, as a whole, was wild about Bill! What political confusion!" (Yvonne Sanborn Waite; December 2000 Bible For Today Newsletter)

Daniel 4:17 proved to be the case in the USA! "This matter is by the decree of the watchers, and the demand by the word of the holy ones: to the intent that the living may know that the most High ruleth in the kingdom of men, and giveth it to whomsoever he will, and setteth up over it the basest of men."

The events of 2000 have beaten the tar out of the holiness and sanctity of marriage. Hebrews 13:4 reminds us that, "Marriage is honourable in all, and the bed undefiled: but whoremongers and adulterers God will judge." Let me clearly tell you that Monica fits into the whoremonger category and President Clinton is an adulterer.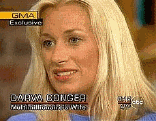 But there's more! Darva Conger and Rick Rockwell beat up on the institution of marriage by making it a game of fame and fortune when they played Who Wants to Mary a Multi-Millionaire. Marriage is not a game and to lower it to that level is a travesty!
Mark 10:6-12 "But from the beginning of the creation God made them male and female. 7 For this cause shall a man leave his father and mother, and cleave to his wife; 8 And they twain shall be one flesh: so then they are no more twain, but one flesh. 9 What therefore God hath joined together, let not man put asunder. 10 And in the house his disciples asked him again of the same matter. 11 And he saith unto them, Whosoever shall put away his wife, and marry another, committeth adultery against her. 12 And if a woman shall put away her husband, and be married to another, she committeth adultery."
We're not done yet. On April 25, 2000 Vermont State legislators passed a bill allowing same-sex couples to enter into state sanctioned "civil unions." The first to take advantage of this state sanctioned legal debauchery were Mr. Declan Buckly and Kevin Goto. But, I must tell you that though their marriage was sanctioned by the State of Vermont, it is an abomination to the Lord God who instituted marriage. Leviticus 18:22 "Thou shalt not lie with mankind, as with womankind: it is abomination." Turn again to Mark 10:6-7 "But from the beginning of the creation God made them male and female. 7 For this cause shall a man leave his father and mother, and cleave to his wife;"
God's marriage equation: 1 man (male human) + 1 woman (female human) for 1 lifetime. Though our popular culture has characterized this as just one of the options, the Lord who instituted marriage says it is the only option.
Hebrews 13:4 bears repeating -- "Marriage (as God defines it) is honourable in all, and the bed undefiled: but whoremongers and adulterers God will judge."
Harry Potter Books Popularize Witchcraft
2 Timothy 4:2-4 "Preach the word; be instant in season, out of season; reprove, rebuke, exhort with all longsuffering and doctrine. 3 For the time will come when they will not endure sound doctrine; but after their own lusts shall they heap to themselves teachers, having itching ears; 4 And they shall turn away their ears from the truth, and shall be turned unto fables."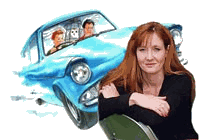 We are living in the days of verse 4. Joanne K. Rowling finds herself in the place of Simon the Sorcerer of Acts 8:9. She is using sorcery and bewitching the children! And how is she doing that? With her Harry Potter books! Rowling is promoting witchcraft and the kids are buying it hook line and sinker. To be sure Joanne Kathleen Rowling is enticing millions of children into the occult realm. The July 26, 2000 San Francisco Chronicle carried an articled titled, What readers think about Goblet? This was the comment of Gioia Bishop, age 10. She said, "I was eager to get to Hogwarts because I like what they learned there and I want to be a witch." (See my whole article on Harry Potter at -- http://logosresourcepages.org/potter.htm)
I have to wonder, Is J. K. Rowling a witch? To look at the December 25, 2000 issue of Time Magazine, I'd have to say YES!
Finally, who will ever forget…
The 2000 Presidential Election
Hanging chad, dimpled chad, pregnant chad, lawyers and certification on the 7th day after the election at 5 p.m. but…
This election proved, beyond the shadow of a doubt that our nation has deeply corrupted itself with the philosophy of relativism. Florida law instructed the Secretary of State to certify the winner of the election seven days after the election at 5 p.m. But, lawyers said the law was not the law and the date and time was extended. Not only that, but the established standard, that had been the standard for 10 years in that county, was changed for this election. I will never forget the picture of tellers "divining votes."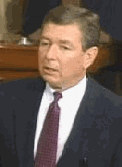 Beloved, there are absolutes! Isaiah 8:20 says, "To the law and to the testimony: if they speak not according to this word (the Bible), it is because there is no light in them."
I will close with verse that Attorney General appointee, Senator John Ashcroft, quoted -- "He hath showed thee, O man, what is good; and what doth the LORD require of thee, but to do justly, and to love mercy, and to walk humbly with thy God?" Micah 6:8
Thank God for his mercy to our country in 2000. We got better than we deserved!